We have been creating great adult & Escort web sites that really work for our clients for over 16 years – we offer a professional efficient service and web sites which will help you be noticed.
We have a well tested straightforward process. We are easy to work with, reliable, trustworthy and fun. I will list you in six escort directories to quickly make your new website profitable.
We specialise in clean easy to use adult and escort website's, using the latest responsive designs, with well written content and optimised for the chance of the best placing in Google.
A New Escort Site for 2018? Top Quality Escort Photography, Web Design
&

Hosting for Birmingham

&

The West Midlands
We are a one-stop, straightforward, simple, easy and reliable escort photography and escort web design company. We offer Google friendly sexy escort and adult-themed websites in Birmingham & The West Midlands. Call us & come and meet with us we have been doing what we do for over 18 years. We also offer fast, reliable UK adult web hosting and superb professional escort photography. This is the adult side of our mainstream photography and website design business, at Sams Hosting we specialise in escort website design and photography for female escorts, escort agencies and other adult related sites based in Birmingham, The West Midlands and the Midlands UK
We have a very simple aim, we craft and create clean, well designed, professional escort website's that will make you look great and are well written and optimised for the search engines. We also produce top quality escort photography, because better pictures always mean better work. We have been doing this since 1999 and have built escort websites for many escorts in Birmingham, the West Midlands, the Midlands, Worcestershire, Shropshire, Gloucestershire. We look forward to helping you soon create the best impression of you on the internet.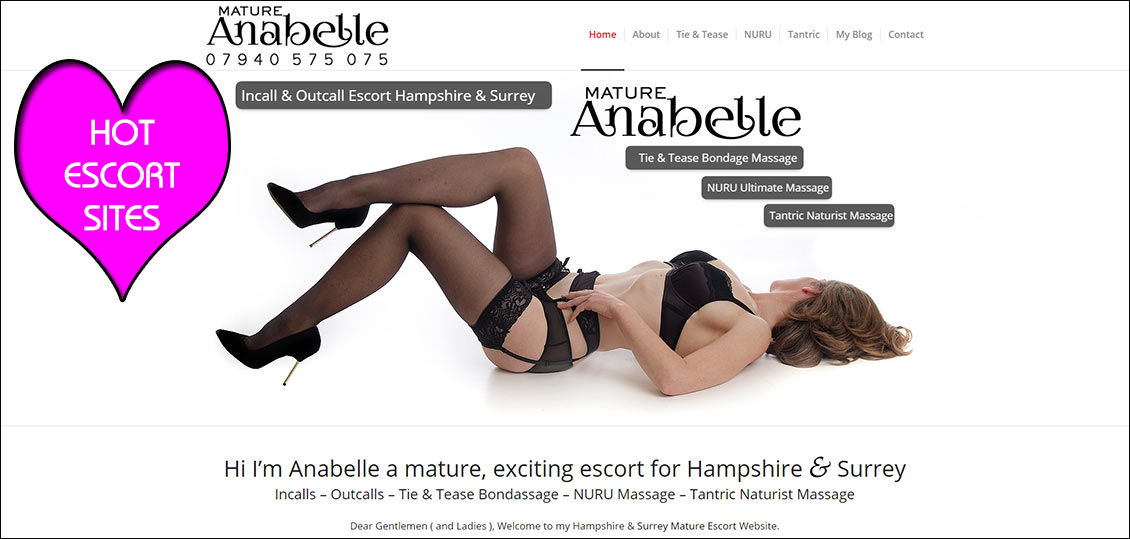 Take a look at our fabulous website created for Anabelle a Mature Escort Hampshire – She found us on the internet and came to us from Surrey for her escort photography photoshoot and website. Anabelle works with clients from all over Hampshire and Surrey and offers a wide range of services such as Tie and tease, NURU Massage and Tantric massage – she enjoys writing about her journey and has had us add a blog to her site as well. Her site has been a huge success this year.
Our Google Friendly WordPress Escort Web Sites
&

1st Years Web Hosting Start from Only £500

You should cover the cost of your new top quality professional escort website in just a few appointments.
Have a look at 6 of THE BEST and call us to increase your calls
&

business.
www.highclassescortbrimingham.co.uk  is the home of Chardonnay. This site proves that the more professional your approach to the escort business the more success you will enjoy. Chardonnay has been with us for over 8 years now and her site is as fresh as ever as she has us take new photographs and add new pages twice per year. Her site continues to bring her a steady stream of the type of clients she is specifically looking for.
We have worked closely with Zara to create Pakistani Escort Zara a site that has totally exceeded her very high expectations.  The web is changing fast and you can't afford to look less than your best in these highly competitive times. Zara had spent a good deal of time researching and choosing her web designers and has been extremely pleased with the outcome of her new site. Full responsive web design by us and all photography was shot by us in our studio too.
Having had many of her friends choose us to make their escort websites Kellie had always just used Adultwork. Over the past couple of years though she had seen this sector is becoming ever more saturated and work was becoming more scarce. She decided to have us create the photography and her new website for her Mature Escort West Midlands  Now there is more variety of callers. Are you trying to stand out in the crowd?  Call us for fast web design and photography.
Imogen Birmingham is the home of Imogen St.Claire. This is Imogen's third site with us. It features our Google friendly responsive design with a clean, simple easy to navigate site with all photography and design by us. Imogen now offers a mature Tie and Tease service and has a page which scores well in google for this very popular search term. This a good example of our popular sexy, dark and elegant style of escort websites.
Escort Worcestershire is the home of Claire Bentley. Again this is showing our new Google friendly responsive designs with a clean, simple, modern and contemporary site with all new photography and design by us, Claire has recently added the increasing popular NURU massage as a new page on her site. The older site we had made for her had suffered since Google changed its search algorithms – the new site is now climbing the search results again.
https://www.matureescortanabelle.co.uk is one of our most successful sites. Anabelle liked our light, bright, classy designs and how our sites were looking and being found on the web. Her Google-friendly responsive, escort website features all our photography ( she has had three escort photo shoots with us now )  and she constantly receives compliments about her site and photography.  She spent a lot of time working on the words for her site and the time has paid great dividends.
FREE Advertising on our three popular Birmingham Escort Directories
Sam's Hosting offers a straightforward, simple, easy and professional one-stop answer for your Escort Photography and Escort Website Design with fast adult website hosting. We have worked with and helped many escorts, adult models and escort agencies create a strong showing and reaction on the web. This is now a very competitive arena and to make an impact in this field it is more important than ever to have a professional website and professional photography. We offer both top class Escort Website's and High-Quality Escort Photography all under one roof. We have a straightforward price structure and can often have a site up and running within three weeks. A Six Page Escort Website is just £500.00  if you already have your own professional photos. If not, It's just £100 more for the photography as well. This includes your domain name and the first years hosting. Extra pages for specific search terms are £75 and changes additions and updates are £40 per hour.
Why choose Sams hosting to create your new website
Professional, stand out, creative, web design for escorts
New designs that work well on all phones, ipads, tablets & PC
Super fast and reliable UK Adult web hosting
You can come and meet us to discuss your new site
Fast efficient friendly and helpful service
We get you listed in three top escort directories
We show you how to list yourself on other directories
Pay for your site with just a few appointments
Superb classy and glamorous escort photography ( for your new website )
We recommend advertising on Punterlink
Here are just a few of the great Escort
&

Dominatrix Websites we have created in the last couple of years

For top quality, NO Hassle Escort Photography – Dominatrix photography and Escort Website Design in Birmingham, The West Midlands & Worcestershire.